You are here
Home
»
The cost of Ski passes in Gudauri
The cost of Ski passes in Gudauri
Gudauri ski pass - prices for the winter season 2022 - 2023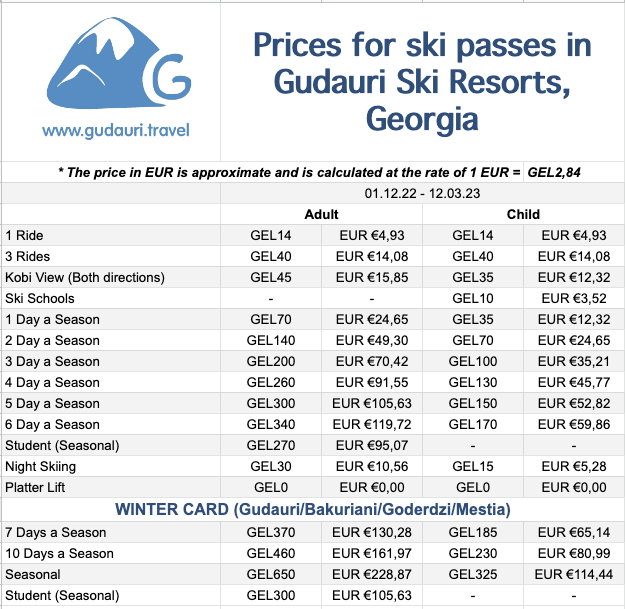 For all types of passes except, Single Ride, 3 Rides (Gudauri side), Kobi Pass (Kobi side, Both Directions) is mandatory purchasing the "Multicard". Reusable (top up card) personalized card, Price 5 GEL.
"Multicard" can be returned at the ticket offices upon one's desire. In order to return, one must provide an identity document. In this case the amount paid for the card (5 GEL) will be returned to the customer;
To obtain the Seasonal "Multicard" one must provide an identity document;
Multicard" is a non-transferable card to any other person. In case the breach is revealed, it will be subject to confiscation;
"3 Days a Season", "4 Days a Season", "5 Days a Season" and "6 Days a Season" cards can be used only in Gudauri Ski Resort during the season;
"7 Days a Season" and "10 Days a Season" Multiski cards can be used on all resorts (Gudauri, Bakuriani, Goderdzi, Tetnuldi, Hatsvali) during the season for any 7 and 10 days;
A child age is up to the age of 18. Children under age of 6 can use any lifts for free;
Opening hours of ticket offices: 10:00 - 16:00 in the winter, 09:00 - 17:00 on weekends and in the spring.
It has been read
104285
times
Read also