`
Gudauri Ski Resort - Information about the Resort
Some things to know before coming to the Gudauri Ski Resort:
The highest point of the resort: 3300 meters above sea level;
Level drop: 1258 meters; 14 ski lifts;
Total length of ski runs: more than 70 км;
Winter season: mid December - end of April.
Gudauri is the best ski resort in Georgia
Gudauri is the largest and most modern ski resort in Georgia with a developed infrastructure that includes the biggest level drop in Georgia and unlimited opportunities for freeriding and backcountry skiing (ski-touring). The resort is the highest alpine settlement along the Georgian Military Road, also known by the ancient name "Sky Ravine Road" and is one of the five most elevated permanent settlements in Europe. Housing here is situated at 2000-2750 meters above sea level. Gudauri attracts mountain lovers from around the world...
6 chairlifts (Doppelmayer, Austria) and one basket lift (POMA, France) give guests access to ski runs on the southern slopes with 57 km of certified tracks of different complexity at grades of 2000-3300 m with a level drop of 1300 m. Map of slopes >>>
The cost of a daily ski pass is about USD 12, weekly discounts.
Off-piste skiing (freeriding) is possible both along the tracks under the lifts and on the neighboring western and eastern slopes of the Chrdili and Bidara mountains as well as the northern slopes of Sadzele mountain in the Kobi Ravine. The cost of a daily ski pass is USD 20, with discounted weekly passes available. Ski tour & backcountry itineraries in Gudauri >>>
View of the ski resort of Gudauri, Georgia
In the center is Mount Kazbek (5047 m.), On the right - the highest point of the Sadzele mountain resort (3258 m.)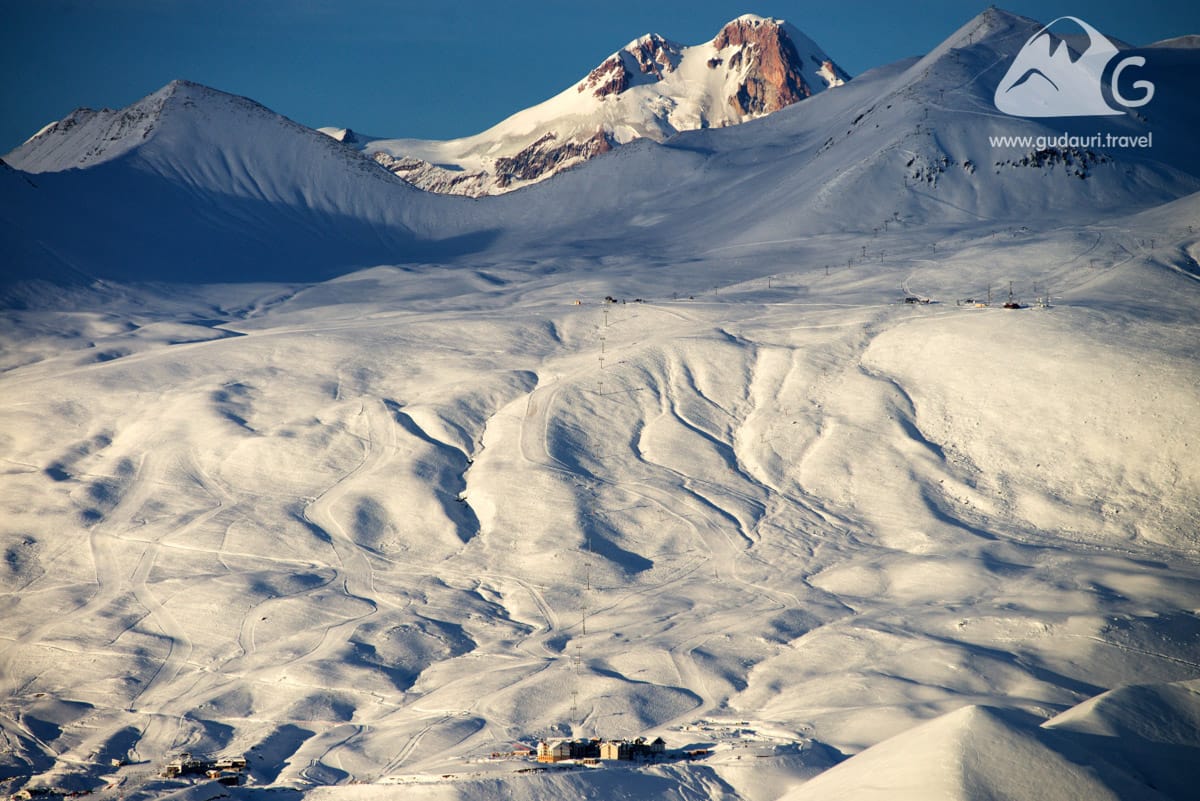 Specifics of Gudauri
- The high-mountain location of the resort and its dry climate allow for the longtime preservation of snow upon the slopes;
- Vast opportunities for freeriding;
- No queues at lifts (except for holidays and weekends);
- Accommodations within the resort belt;
- It is almost impossible to find a hotel room or an apartment "on arrival" – resort housing is limited, especially during the "high season" (December 27 to January 14 and February 15 to March 10).
Distance from airports
Tbilisi Airport — 135 km (2.5 hours by car); Kutaisi Airport — 310 km (5 hours by car); Nalchik Airport (Beslan) — 170 км. (3 hours or more depending on road conditions across Cross Pass). Book an official transfer to Gudauri >>>
Prices for accommodation in Gudauri
The average cost of living for one person with a two-time meal is USD 35-50 per day. From many hotels exit to the ski track directly from the hotel, others are located within walking distance to the ski lift (5-10 minutes walk). Compare prices in hotels in Gudauri >>>
Après-ski and Entertainment in Gudauri
In addition to skiing at the resort, you can ride a snowmobile, paraglider with an instructor, and go on a day trip to Kazbegi or Tbilisi for a day off. Dozens of cafes and restaurants work on the slope. In the evening, you can spend time in the SPA or one of the bars and nightclubs of Gudauri.
Gudauri Mountain Resort in Summer
Три канатные дороги летом в Гудаури работают ежедневно с 11:00 до 17:00 - Gudaura (гондола), Snow Park и Садзеле. Стоимость одного подъёма - 5 GEL (одна канатная дорога), подъёма на гору Садзеле (3300 м. над уровнем моря)- 12 GEL (три канатные дороги: Gudaura, Snow Park и Sadzele). Работают велосипедные трассы (для даунхилла, скоростного спуска на горном велосипеде). Летом в окрестностях Гудаури прекрасные возможности для хайкинга, рафтинга, скалолазания и катания на лошадях. Подробнее об отдыхе в Гудаури летом >>>
Other Ski Resorts in Georgia
The most popular Georgian ski resort closest to Gudauri is Bakuriani (250 km from Gudauri, 5 hours by car). In 2016, two new ski resorts in Georgia were opened – Goderdzi in Adzharia, in the southwestern region of the country (580 km from Gudauri, 11 hours by car) and Tetnuldi in Svanetia, in the northwestern region of Georgia (550 km from Gudauri, 10 hours by car). In Svanetia, there is also one small ski resort, Khatsvali, with one cableway and three ski runs.
Are there any questions before going to Gudauri?
You can find the answer to them here, in the section of useful articles or send your question to email info@gudauri.travel
It has been read
75419
times
Read also