Gudauri - The Best Ski Resort in Georgia
Gudauri Resort is situated among some of the highest mountains in Europe and is the largest resort in Georgia with more than 70 km of trails. It is located only 135 km from Tbilisi Airport. All the resort's hotels are in close proximity to the ski lifts and within walking distance. Affordable ski passes are available as well as comfortable accommodations at reasonable prices.
Now in Gudauri
Clear sky
Temperature
-3 °C
Snow cover: 1.74 m
Nearest snowfall
25 January
Light snow
+ 7 cm snow
Guided Ski & Splitboard Tours. Early booking discount - 10%
Backcountry skiing in Gudauri. Guidebook.
New apartments for rent in Gudauri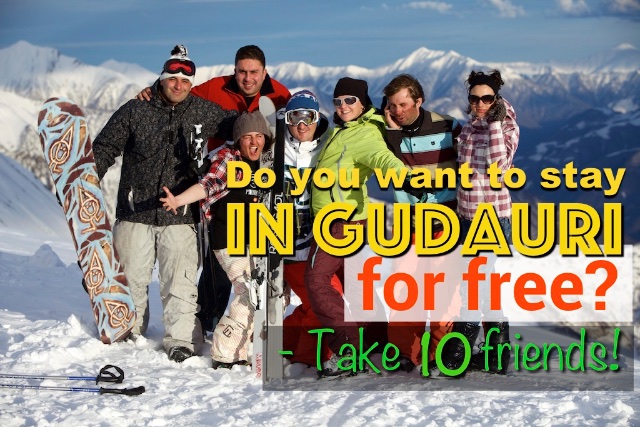 Special prices for groups over 10 persons!
- 20% discount on accommodations and ski rentals at Gudauri.
Group transfers from hotels. Submit a request. Submit a request ...
Order an official transfer to Gudauri:
Tens of thousands of skiers and snowboarders found accommodations in Gudauri on this website, among them:


Luca Pandolfi, Italy
Jones Snowboards Prorider.


Emma Jack, UK
Downhill skiing from Mt. Manaslu 8163 m.


Boris Bulai, Russia
The Moscow City Government.


Sami Tuoriniemi, UK
Onboard Magazine.


Anna Khankevich,
Russian Freeride Champion.
BUT ALSO…...
- Cyril Faure, cyclo-skier, France
- Rossignol Team Germany
- Kari Medig, photographer of the Norrøna magazine
- Roman Bryk, Russian Federation of mountaineering
- Sergey Larin Club "7 Summits", Moscow
- Google, Ireland
- "Lipstick Productions" - Snowboard Video Studio...
... Plus, there are more than 12000 satisfied participants of our adventure programs
Recommend GUDAURI.TRAVEL: