| | |
| --- | --- |
| Classified ads of apartments for rent in Gudauri | |
176 accommodation options in 33 hotels, 3 Aparthotel, 5 cottages, 13 guesthouses and 6 apartment buildings:
Planning a vacation in the mountains of Georgia? Book your accommodation in advance:
Review of prices for accommodation in hotels and apartments in the ski resort Gudauri
Details here»
No time to search accommodation? We will do it for you!
Book your accomodation in Gudauri with us:
Save money. Prices for rooms in hotels and apartments are lower than on booking.com. The minimum price of a well-maintained apartments - from $ 5 per person per day!
Forget about the price increase. You transfer an advance payment for accommodation is 15-30% in Georgian Lari (GEL), the balance is fixed in the same stable currency. The money from your card will automatically be converted at the exchange rate of your bank.
Do not pay a commission. Transfer of the prepayment to your hotel in Gudauri from worldwide - pay for your vacation in the Georgian mountains by VISA, MasterCard, without intermediaries.
Get up to 20% discount on everything: meals in restaurants, equipment hire, entrance to nightclubs, help instructors and other services in the ski resort of Gudauri at accomodation booking on GUDAURI.TRAVEL.
Do not worry about check-in. We are constantly in Gudauri and can help you to solve any possible problem on the resort..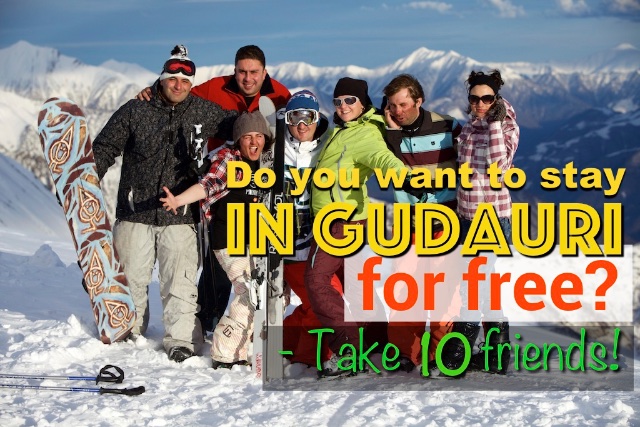 Special room rates for groups of 10 people!
- 20% discount for accommodation and ski rental in Gudauri..
Group transfers from the hotels. Submit a request ...
Guided Ski Touring and Backcountry in Gudauri - Mountain and Ski Guides
Сейчас в Гудаури
Clear sky
Temperature
5 °C
Wind south-west 1 m/s Light air
Snow cover: 0 cm
More than 6,000 riders and travelers enjoyed Gudauri with us:


Luca Pandolfi, Italy
Jones Snowboards Prorider.


Emma Jack, UK
Downhill skiing from Mt. Manaslu 8163 m.


Boris Bulai, Russia
The Moscow City Government.


Sami Tuoriniemi, UK
Onboard Magazine.


Anna Khankevich,
Russian Freeride Champion.
BUT ALSO…...
- Cyril Faure, cyclo-skier, France
- Rossignol Team Germany
- Kari Medig, famous ski photographer, Canada
- Roman Bryk, Russian Federation of mountaineering
- Sergey Larin Club "7 Summits", Moscow
- Eugenia Rashevskaya: Google, Ireland
- "Lipstick Productions" - Snowboard Video Studio...
... and more than 6,000 people already have booked accommodation and programs and enjoyed it.
No time to search and choose accommodation? We'll do it for you!
Just send your application and get by Email our best offers from Gudauri hotels with price
Any questions on coming to resort?
Write to WhatsApp +995-599-367-500
We are in Gudauri ready to solve any problem