Cost of a trip to Gudauri, prices on the resort in 2020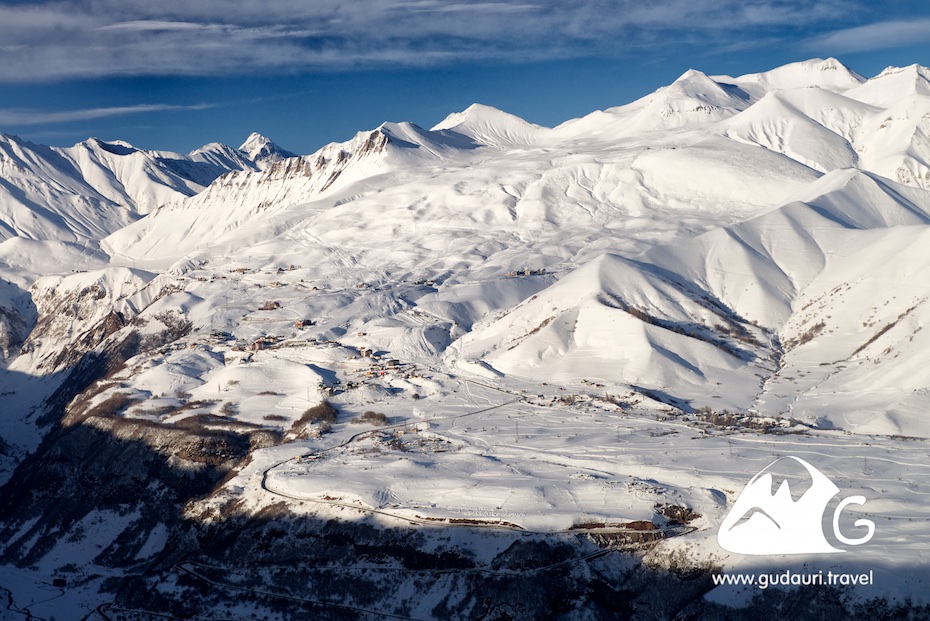 How much does it cost to have a vacation in Gudauri in winter 2019/2020?
In 2020, one week in Gudauri with twice-a-day feeding, accommodation and everyday riding will cost you:

from USD 210 per person if staying in apartments,
from USD 240 per person if staying in a hostel,
from USD 370 per person if staying in a hotel.
It's a minimum cost of one-week stay per one person in 2019/2020 season.
Here's a more detailed info about all the components of vacation on the most popular Georgian mountain-ski resort...
Cost of vacation in Gudauri consists of must-have expenditures:
- way from your home to your place of stay on the resort;
- accommodation;
- food;
- ski-pass (chairlifts);
and unessential (additional):
- gear rental;
- instructor services;
- kids' skiing school;
- freeride-guide;
- paragliding;
- tours;
- sauna;
- souvenirs;
For groups of 4 and more people, cost of vacation in Gudauri per person will be cheaper due to division of general expenses between group members – transfer, apartment rent, instructors and guides services.
For groups of 10 and more people, vacation will be even cheaper - if booking on www.gudauri.travel, group discounting and free accommodation for 1 person are applied to the mentioned above general expenses.
Having an idea about prices in Gudauri will help realize what you can save money on. Detailed info about every component of vacation in Gudauri
Road to Gudauri
- on a plane
To get in Gudauri, you have to arrive in Tbilisi (120 km) or Kutaisi and order transfer to the resort.
Approximate cost for Moscow - Tbilisi straight-through plane ride USD 225
Approximate cost for Kyiv - Tbilisi straight-through plane ride USD 130
Transfer Tbilisi - Gudauri USD 65 for a car USD 21 per person
You can also get to Gudauri on a shuttle-van. It departs from the bus station on Didube metro station, costs 7-10 lari USD 3-4.
First shuttle-van from Tbilisi departs at about 9.00-9.30 AM, last - at 16.30-17.00.
TOTAL per 1 person 225 or 130 + USD 21 or USD 4
- on a car
You can also come to Gudauri on a car through Vladikavkaz (Vladikavkaz - Gudauri 80 km) and «Verkhniy Lars» checkpoint. But in this case your route will go through the Cross Pass, which often gets closed for a few days after snowfalls. But starting from 2019, closed route for vehicles through the Cross Pass won't be a problem for those who arrive on cars through Georgian northern border – new cable ways from Kobi will allow to easily ascent to Gudauri from the Kobi northern gorge side, it will be more comfortable to live in Kazbegi region in this case.
You can easily calculate the cost of ride by yourself, calculating kilometrage and multiplying it on fuel cost + don't forget about pit stops, driving tickets and other unforeseen expenditures. For example, the police on both sides of the Cross Pass sometimes demands circuits for all-wheel-drive vehicles for a drive through, if you won't have it you'll have to buy it. Price is 50 dollars for a set, the closer to the Pass – the more expensive it is.
In general, Moscow - Gudauri route costs USD 200-250 per car or USD 50-60 per 1 person.
Accommodation in Gudauri
- in apartments USD 15-30 per person per day
- in a hotel with breakfast from USD 38 - 47 per person per day
- in a hotel with breakfast and supper USD 40 - 60 per person per day
These are the prices for a shoulder season; on the New Year and in the end of February/ beginning of March prices are higher, in January and April – lower.
It's rational to book accommodation in Gudauri beforehand – there are not so many hotels and houses on the most popular Georgian resort. If you won't take care about accommodation beforehand, when arriving on the resort you may not find vacant rooms or apartments or will have to live in variants not of your choice for way too high prices.
Food in Gudauri
Living in apartments and preparing food by yourself costs in general USD 5 per day per 1 person.
Eating lunch or supper in restaurants will cost USD 7-10 per day per 1 person (khachapuri USD 5, kebab USD 5-7, kharcho USD 4, salad USD 3, mullet wine USD 2-3).
Snacks on a mountain – hot-dog USD 2 / shawarma USD 5 / beer USD 1.
Good home wine by the glass (www.gudauri.bar) - USD 4 per liter.
Ski lifts
Skipass (season ticket) for 1 ride USD 2,5
Skipass (season ticket) for 1 day USD 15
Skipass (season ticket) for 5 days USD 70
Skipass (season ticket) for 7 days USD 90
All prices of Gudauri cableway >>>
Souvenirs
Churchkhela USD 1-2
Bottle of wine USD 5 - 10
Bottle of brandy/chacha USD 12
Georgian woolen knitted socks/hat USD 10 - 15
Additionally
- gear rental
USD 10-13 per day for a standard set (skis, boots, ski poles/snowboard and boots)
USD 20-25 per day for a freeride set or top models (skis, boots, ski poles/snowboard and boots)
USD 2-3 per day for helmets, glasses and gloves (single piece)
- instructor services
USD 20 per hour, USD 30 per two hours (individual lessons)
Discounts for groups
- kids' skiing school
USD 15 per 2 hours (group lessons)
- freeriding
Freeride with a guide from USD 50 per day >>>
Heli-ski (ascent on a helicopter) USD 930 per day
Free freeride routes guide for independent tourists read online >>>
- paragliding
from USD 95 - 100
- tours
USD 15 Points of interest of Georgian Military road and a trip to Kazbegi.
- sauna
USD 20 per 2 hours SPA in New Gudauri or in Marco Polo
It has been read
75603
times

Previous article
Gudauri Travel Bar