You are here
Home
»
Map of ski lifts and slopes in Hatsvali (Mestia)
Map of ski lifts and slopes in Hatsvali (Mestia)
The ski slopes and lifts in Mestia / Hatsvali (region Svaneti, Georgia).
Mestia – a young mountain resort of Georgia with developing infrastructure, huge opportunities for freeriding and backcountry (ski-tour).
Ropeway and slopes for skiing are located in 8 km from Mestia, in Hatsvali. At the most hotels of Mestia transfer to the ropeway is included in the accommodation costs.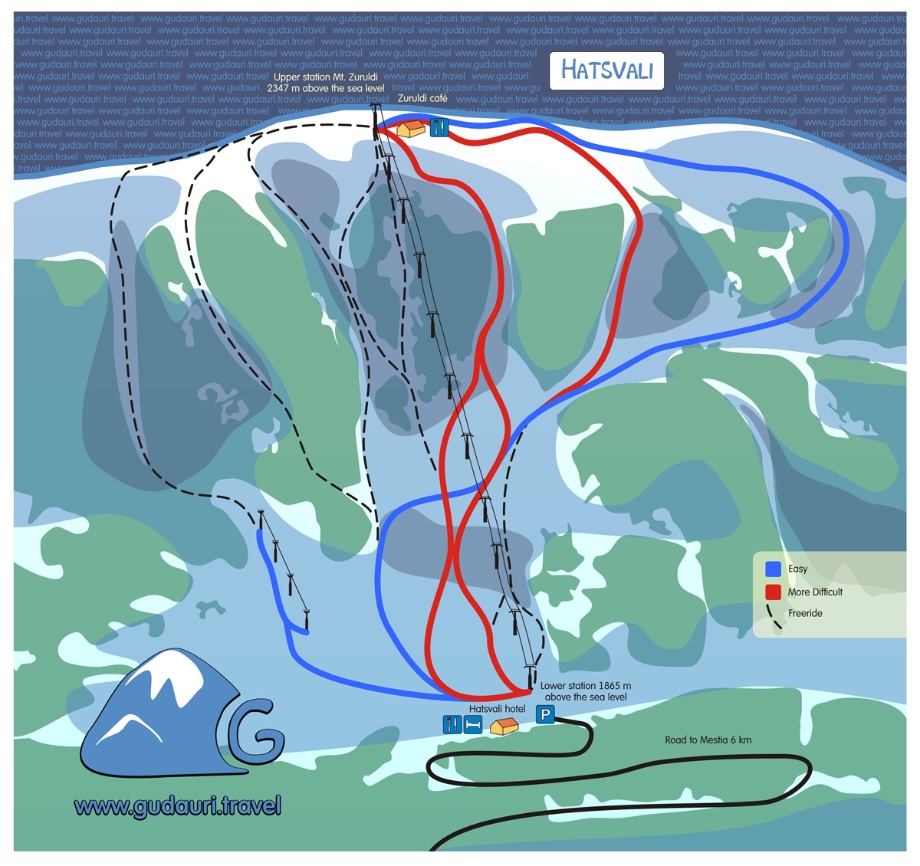 Technical characteristics of the Hatsvali Resort:
Lower point (Hatsvali): 1865 m.
Highest point (Zuruldi): 2347 m.
The longest run: 2600 m.
Elevation change: 482 m.
Runs: 3 (chair lift1900 m, blue 2600 m and the run for the beginners 300 m).
Lifts: 1 lift with quadruple-chairs Leitner (length 1462 m, lifting time 8-10 minutes, capacity 1000 pers/hr); 2 surface lifts with the length of 300-500 m).
Working hours of the ropeway: 10.00 - 16.00 (till 18.00 in March-April).
Duration of the season: December 25 – middle of April.
Cost of ski-pass: - 15 GEL a day (around USD 9).
Freeriding is possible. Forest is of average-possibility for experienced skiers and snowboarders.
Web-site of Hatsvali Ski Resort: http://tetnuldi.com/
It has been read
55839
times