Paradise Found: Exploring Georgia With Luca Pandolfi - pro-rider of the Jones Snowboards
Last winter we invited to Georgia mountains the "King of Сouloirs" and pro-rider of the Jones Snowboards, "Freerider of the 2014" according Salewa and rider in the Jeremy Jones film "Higher" - Luca Pandolfi.
Jones Snowboards about Luca's trip in the Georgian mountains with Gudauri.Travel - "Paradise found!"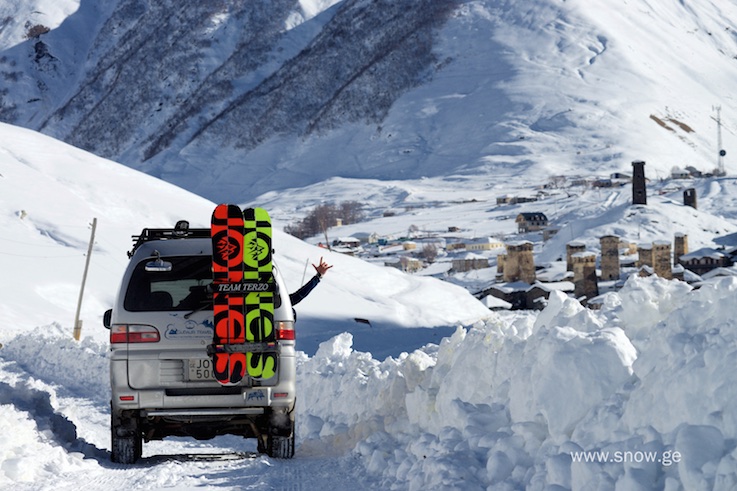 Enroute to paradise… Photo - Oleg Gritskevich
The winter of 2014-15 started very dry in the Alps. It was the kind of situation that pushes you to book a flight and go searching for the white gold in the wildest location you can find. It helps when you have misfit friends who are constantly traveling and looking for new adventures. My friend Matteo Calcamuggi is one of these misfits. He is always searching for new ranges to explore and often gets inspired by seeing new terrain on the plane ride home from his last trip. On one of his return flights from Asia he was hit by the beauty of the Caucasus range in Georgia.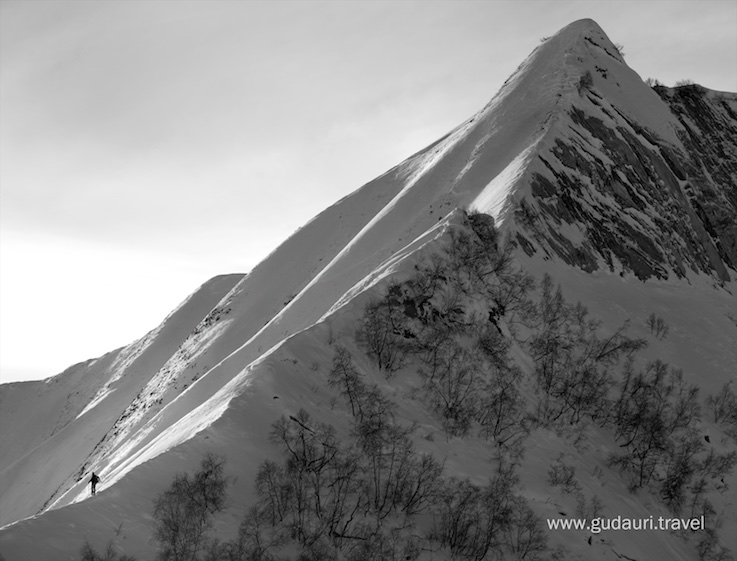 Magical spine line in the Gudauri backcountry. Photo - Oleg Gritskevich
In the beginning of December we heard Georgia was having a good early season. The snow reports got our wheels turning and within 2 weeks, while everyone else was going to Japan, we found ourselves on a plane flying to Tbilisi, the capital of Georgia.
Arriving in Tbilisi we were picked up by our new friend Oleg from Gudauri.Travel. Oleg is a guide and tour operator who specializes in adventure travel in Georgia. We headed directly to Gudauri resort , 2 hours driving north of Tbilisi. The resort is pretty mellow but it is surrounded by incredible backcountry terrain - steep spines, rocky faces, couloirs and some nice tree glades for as far as the eye could see.

There are endless first tracks to be had in Gudauri. Photo - Matteo Calcamuggi
We spent the first week exploring the Gudauri backcountry with Paolo and Alberto (2 Italian friends that we met there). We found fantastic snow and met great people, most of which wanted to warm us up with some vodka or cha cha (local grappa). The amount of vodka and cha cha the Georgian people pour back at all times of the day and in any situation is impressive! To no surprise they are very happy and welcoming. We were invited into monasteries nestled high on wild mountains, private houses and a resort patroller even opened a closed chairlift for us giving access to a memorable descent down the back of the resort to a neighboring valley. The hitch hike back was yet another unforgettable experience.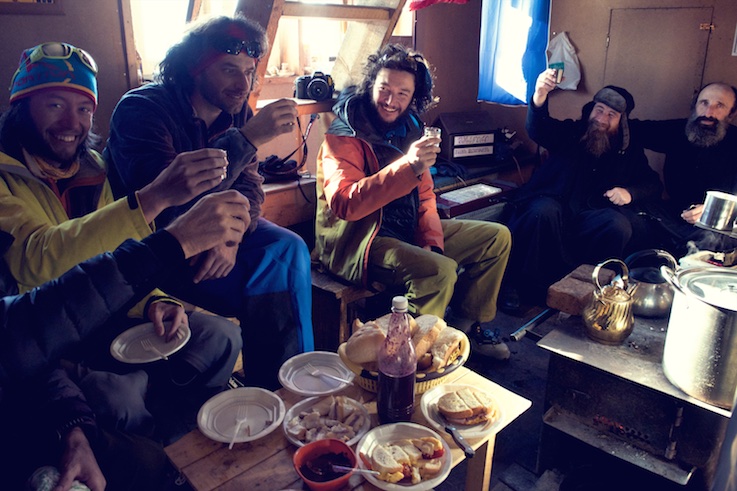 Enjoying the hospitality of Ortodox Monks in their mountain top monastery near the Gudauri resort. Photo - Oleg Gritskevich
But that was just the beginning… the real adventure started when we left Gudauri and drove ten hours with Oleg to Svaneti park on the west side of the country. Until a few years ago, the Svaneti area was forbidden to tourists because the high risk of being robbed. The danger dropped off when a new president came in who wanted to develop tourism in the park. They killed off all the bandits and the region has been much safer ever since.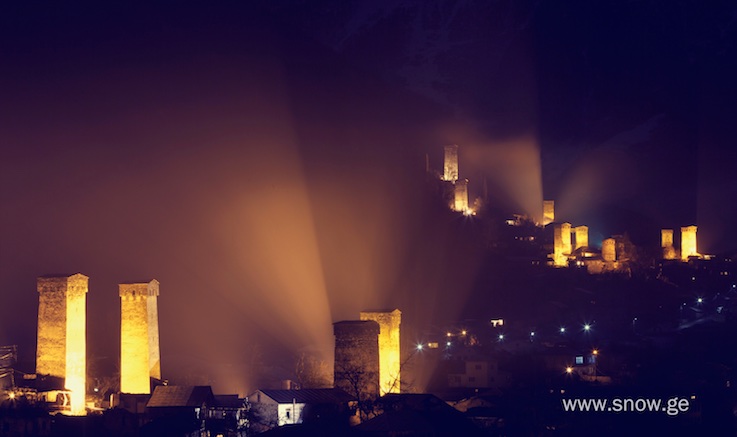 The town of Mestia by night. Photo - Oleg Gritskevich
Arriving in the Svaneti region our eyes were astonished. The village of Mestia held gorgeous stone towers and was surrounded by mountains so massive they do not have anything to envy from the Himalayas or the Andes. From Mestia, we continued driving another four hours in Oleg's indestructible Mitsubishi to a little village on the border with Russia. The village sat at the base of an impassable wall of mountains and was truly self-sufficient as it is cut off from the world for most of the winter due to avalanches on the road. We stayed in a local house and the Babuska (grandmother) prepared super tasty homemade food for us before and after our missions on the mountains.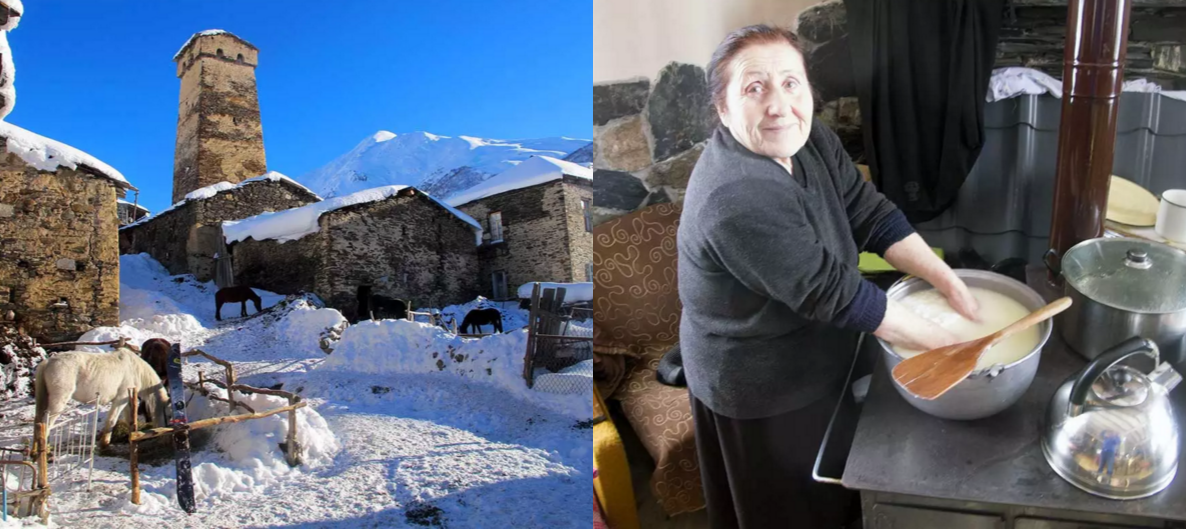 Left - Just outside the house, the start of another day's adventure… Right - Our lovely Babuska preparing hand made cheese. Photos - Luca Pandolfi
Each morning we would start skinning directly from the house, sneaking around all the animals that live free in the village. The snow conditions were just perfect, 30-40 cm of fresh and no one else within a hundred kilometers with a pair of skis. Well, no one except a young local guy who would session a little air over a fence every day after work using old narrow skis and rubber fishing boots. He crashed every attempt but never lost enthusiasm.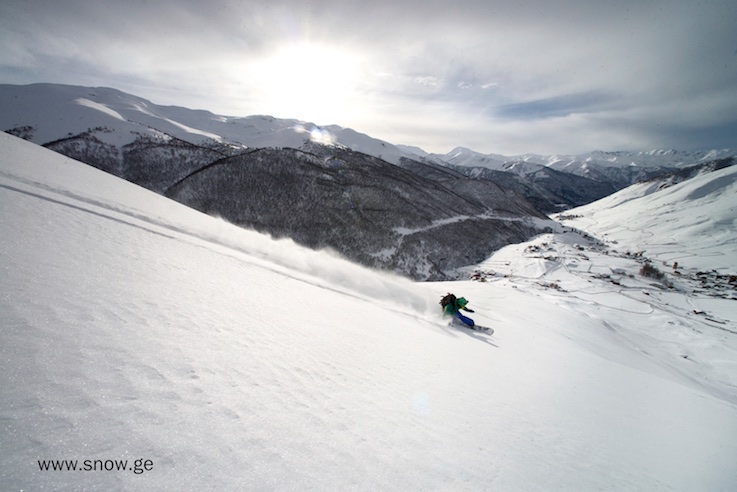 The sugary snow was seriously perfect. Photo - Oleg Gritskevich
We hit a few north facing lines just above the village, sweating vodka on the way up and swallowing powder on the way down. Imagine a place with endless potential for first tracks in light sugary powder, a grandma cooking you amazing food on the cast iron stove and her son filling up your glass of cha-cha every time you blink your eye. If paradise exists, I think we found it!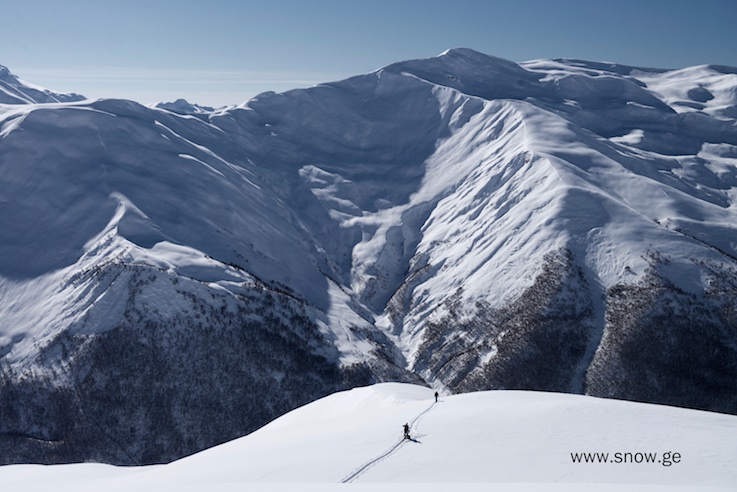 We were the only skiers/riders in this entire range. Photo - Oleg Gritskevich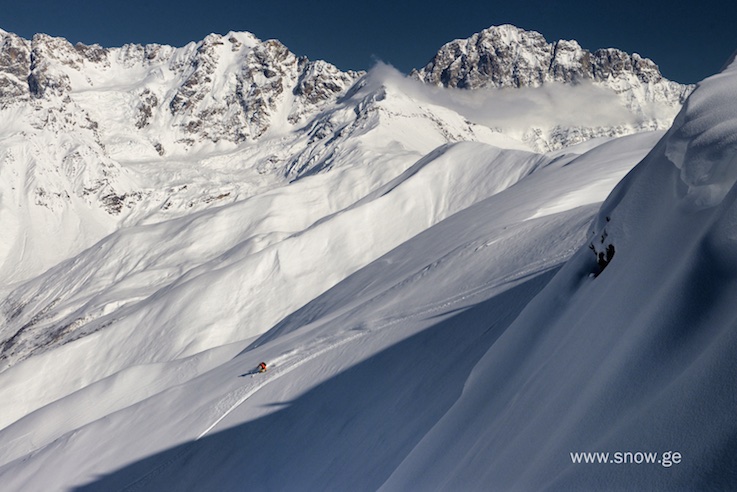 Matteo opens it up. Photo - Oleg Gritskevich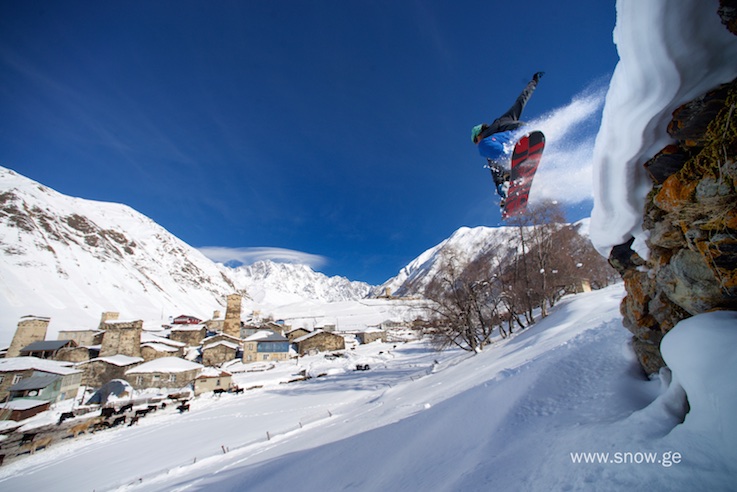 Tons of fun terrain dropping down to the village. Photo - Oleg Gritskevich
On our last day we went on a mission to ride an improbable and exposed 900m line. The line turned out to be the highlight of the trip. It started with a top couloir, became a spine, then pillows, then trees and finished with an exit couloir. Everything went smooth as we found a passage to bypass the middle rock band that split the couloir in two sections.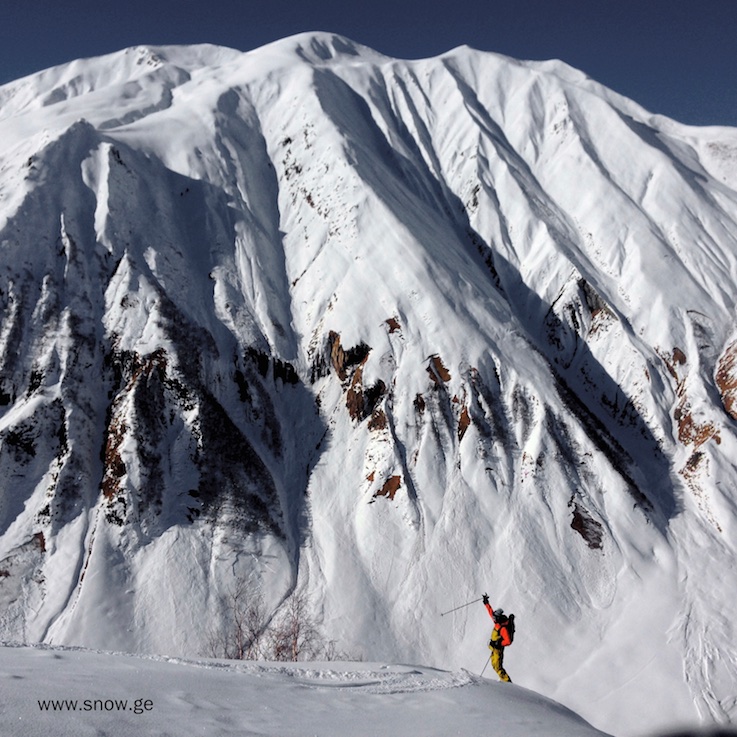 Matteo ready to drop into his dream. Photo - Oleg Gritskevich
The trip back to Tbilisi was endless, almost painful, but Oleg had more surprises in store for us along the way. To break up the long drive, he booked us a massage at a famous spa in an ancient town. In the steam of the spa I had the vision of three beautiful dancers walking through the door ready to give us a massage, but I quickly woke up when a Georgian boxer showed up to work on our tired muscles!! LOL

Our trip to Georgia was an absolutely fantastic experience. We left Chamonix with no expectations and we found it all. Endless gratitude to Oleg for his warm kindness, driving and guiding. Oleg is a truly professional tour operator and a great soul.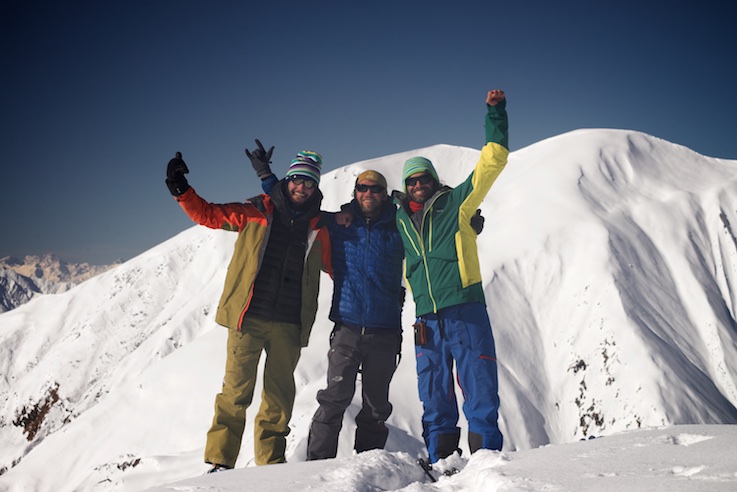 The crew: Matteo, Oleg and Luca.
If you have any questions about visiting Georgia you are welcome to contact me for information: lucapandolfi73@gmail.com
And if you do visit Georgia I would highly recommend working with Oleg and Gudauri.Travel. He can help you plan ski trips, bike trips and anything else you might like to do in this beautiful and unspoiled country.
Also many thanks to Salewa, Level Gloves, Jones Snowboards, Spark R&D, Fitwell Backcountry, Now Bindings, Camp, Scott and VA for helping support my passion for adventure and backcountry snowboarding.
For more trip reports from Luca check out: www.lucapandolfi.com
Original article: http://www.jonessnowboards.com/Paradise-Found-Exploring-Georgia.html?lang=en
It has been read
9251
times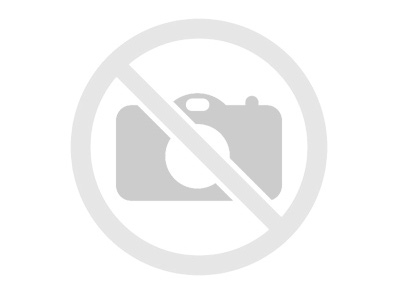 Previous article
Summer in Gudauri - cheap apartments for long stay rent

Next article
Holiday Lomisoba in the Lomisi monastery